An exclusive collection, designed by Joanna Boyen & handmade here in London for the VSOE, celebrates the history, legends, marquetry, decor & style of the famous train, interpreting them in fine jewellery
The King of Trains
On a torrentially rainy day in the autumn of 1977, Sotheby's organised a sale of Wagon-Lits rolling stock at Monte Carlo goods depot. James Sherwood, who had begun to take an interest in the revival of the Orient-Express went there to examine the carriages and perhaps make a bid. The carriages had been taken for a joy ride from Nice to Monte Carlo that morning and Princess Grace had eaten brunch in the lovely restaurant car designed by René Lalique. Prince Rainer was there too, as Peter Wilson, the famous auctioneer and head of Sotheby's prepared to start the sale. The carriages were arranged as a backdrop and the station was swarming with press and TV crews.
James Sherwood entered the bidding. He lost the first two cars to the King of Morocco, but took the next two cars, both sleepers built in 1929. Railway cars are very large, long, bulky objects. Wagon Lits were happy to transport them - but "Where would Monsieur Sherwood like them delivered?" Where indeed...
More than 40 years on, and with a full set of carriages retrieved and lovingly, painstakingly restored, the vision of James B Sherwood and those of the original founders of luxury train travel, live on in this beautiful train. Brimming with history, glamour & romance, this King of trains & train of Kings continues to be a source of legend.
Murder on the Orient-Express
Gold & diamond daggers. Naturally
Poirot's Egg Cups
Chunky, solid gold & silver Art Deco egg cups designed as a fun reference to Hercule Poirot's obsession with finding a perfectly matched pair of eggs for his breakfast in the most recent remake of the classic 'Murder on the Orient-Express' movie. Directed by Kenneth Brannagh the film has an all star cast. If you haven't seen it, you should! And if you haven't travelled on the train, it's quite simply, the experience of a lifetime.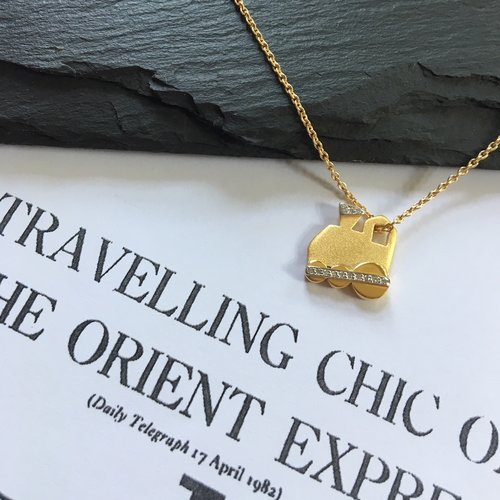 Choo choo
The history, the legends, the people, the fun!
Caviar & Champagne
One of the new Grand Suites introduced recently. No more words needed.