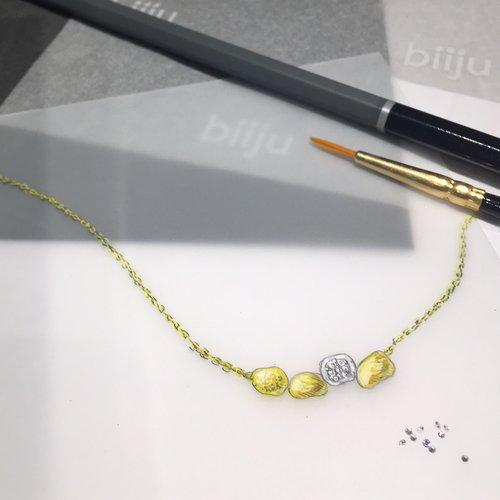 Gold nuggets
Brushed gold nuggets & white diamonds
She Said Yes!
Bespoke engagement ring with a beautiful oval diamond set in platinum
That Sparkle
The joy of working from Hatton Garden means all the raw materials are readily available, including GIA certified diamonds in any size or cut you desire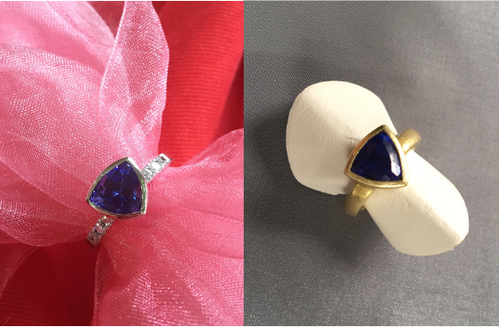 An heirloom remodelled
A spectacular tanzanite ring transformed - a heavy, closed setting was replaced with a light, open setting to allow the light to flood in and show off the exquisite stone in all its glory. White gold replaced yellow gold & white diamonds were placed on the shoulders.
A Shooting Star All Her Own
This very personal commission began with a sketch by the client of the particular shape of the star she had envisioned. A scatter of sparkling white diamonds throws stardust across the surface and on the reverse, the names of each of the 5 family members are engraved into the corners. Rock crystal - a stone with many powers - is set into the second star to protect the family.
In-house CAD design expertise means you can see your piece come to life, have control over every step of the process, are easily kept up to date with progress & can make as many changes as you'd like at minimal cost before the piece is cast into precious metal.
Handmade with Love
Commissioned by a client who was inspired by our VINTAGE SNOWFLAKE earrings, these beautifully textured, eye-catching earrings are an exquisite mix of ancient Peruvian craftsmanship & modern design techniques.
Skilled artisans, high up in the Andes practising techniques from generations past, handwove fine silver thread into 2 silky pendants. Here in London's Hatton Garden, they were expertly finished, overlaid with gold & set with 2 grey diamonds, 2.3mm each.
Special pieces to be treasured.
A Rainbow of Gemstones at Your Fingertips
Beautifully cut, ethically sourced
... CONTACT US to chat about what you have in mind. We'd love to hear from you, there are no obligations at all, and who knows what loveliness may come of it.
Joanna x